COVID-19 Testing Information
There are different options to get tested for COVID-19, including booking an appointment and using a take-home test. Whether you need to get tested or not depends on your situation.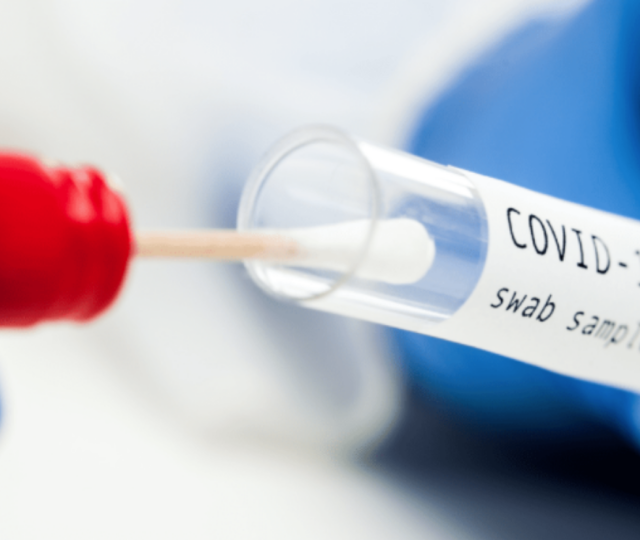 Determining if COVID-19 testing is necessary
Take-home rapid antigen test
Certain community pharmacies in B.C. are now distributing free test kits. People are advised to keep the test kits at 2C to 30C.
Click the link to find a Pharmacy Near You
PCR test
The PCR test is an accurate and reliable test for diagnosing COVID-19. This test takes place at various sites in IH. You can make an appointment by calling Digital Health Support Desk at 1-844-870-4756, seven days a week.
Please note, the Covid-19 Self-Assessment Tool will be reviewed prior to booking.
If you're hearing impaired, booking assistance is available.
Preparing for a PCR test
Make sure you self-isolate before your test.
Please wear a mask and plan to arrive no more than 5 minutes before your scheduled appointment time.
For patients over the age of four, a saline (salt water) gargle may be offered instead of a nose swab. To ensure accuracy of your test, do not eat, drink, vape, smoke, brush your teeth or chew gum for at least one hour before the test. Read the mouth rinse/gargle instructions for more information on what to expect.
You can also watch the gargle video. It is recommended that you practice in advance with your child with plain water if possible. Do not practice within two hours of the appointment time.
Accessing PCR test results
Results are available within 48 hours and are accessible through the following options: please read this handout for more information
If you test positive for COVID-19
A positive test result for a PCR test or a rapid antigen test means that you have detectable levels of the COVID-19 virus in your body. You will need to self-isolate. 
Please visit BCCDC's Testing Positive page for information on self-isolating, managing your symptoms, and notifying all of your close contacts.
---
See if you qualify for treatment: 
 Click here for the COVID-19 Treatment Self-Assessment 
 or call 1-888-268-4319 
Interior Health COVID-19 PCR Test Sites
Interior Health PCR Test Locations

Location
Facility
Appointment Wayfinding Instructions
Hours of Operation
100 Mile House

Please report to the ER entrance. Report to the Greeter and say you need a PCR swab.

(7 days)

1500-1600

Ashcroft

Ashcroft Hospital and Community Health Centre

Park in the ambulance bay (wait in parking lot until it is empty). Stay in your vehicle and call 250-457-0374. Do not enter building. A nurse will come to your vehicle.
Accepts only children age 5 and over

Mon - Fri

0900-0930

Barriere
Please report to the Barriere Emergency Department

Clearwater

Dr. Helmcken Memorial Hospital

Please report to the Clearwater Emergency Department

M-F

1400-1500

Cranbrook

Health Unit Centre (Rocky Mountain Lodge)

Enter off of 24th Ave. Drive past helicopter pad to the back of the health unit building. Park in a designated spot and call posted number on arrival.

(7 days)

0845-0905

Creston

Please report to the ER.

Call 250-428-3823 before arriving.

Please report to the ER.

Call 250-428-3823 before arriving.

Elkford/Fernie/Sparwood
Please report to the Sparwood Emergency Department

M-F

1030-1100

Enderby
Please visit the health centre during operational hours

Mon-Fri

0900-1000

Golden
Please report to the Golden Emergency Department

M-F

1000-1030

Weekends, please contact ER

Grand Forks
Please report to the Grand Forks Emergency Department

Invermere

Invermere & District Hospital, 850 10th Ave (10th St. entrance)

Please report to the Invermere Emergency Department

Daily

1100-1200

Kamloops

(519A – Trailer beside the Health Unit)

Follow signage to rear of building. Line up at entrance at your appointment time. Do not enter main public health building.

Appointments are required

Mon-Fri

1300-1400

Sat-Sun & Stats

0900-1000

Kelowna

Kelowna Public Health-CHSC Lot #286

Please arrive at your appointment time, we are unable to accommodate early/late arrivals.

Entrance is down the back alley, off of St. Paul Street.

Pull in to the parking lot. The Covid-19 testing spots are straight ahead on the right-hand side

.

Mon-Fri, please stay in your car.

On weekends, you will need to buzz in.

(7 days)

10:20-11:10

Lillooet

Lillooet Hospital & Health Centre

Park in the parking stall beside the handicap parking at the Community Health entrance. Please remain in your vehicle until greeted by the nurse.

M, W, F

0900-1000

Closed Stat Holidays

Lytton

Lytton First Nations Health Services

Please visit Home Health

M, W, F

1100-1130

Closed Stat Holidays

Merritt

Nicola Valley Hospital and Health Centre

Monday to friday

0900-0910

Home Health Department

no walk-ins accepted

Sat/sun

Please report to Merritt's Emergency Room Department

Mon-Fri

0900-0910

(Including Stat Holidays)

Nakusp

Please report to the Nakusp Emergency Department
Nelson

Mon-Fri

Sat-Sun

Monday-Friday

Park in designated stall. Stay in vehicle.

Sat-Sun and STATS

Park in designated stall along back side of building. Stay in vehicle.

Mon-Sun

8:40 Appointment

No drop-Ins

Penticton

Park in the designated parking spaces for Covid Testing at the Penticton Health Center

Call number listed on arrival. Do not use Front Entrance, follow signs Testing Entrance.

If no cell phone, follow signage to testing entrance, use sanitizing station and knock on door.

(7 days)

1130-1230

Princeton

Please report to the Princeton Emergency Department


Revelstoke
Please report to the Revelstoke Emergency Department

(7 days)

0930-0940

open for stat holidays

Salmon Arm

Monday to Friday

Salmon Arm Public Health Centre

Sat to Sun & Stats

Mon-Fri

Park at the far end of the parking lot in the designated stalls (look for the orange cones). Stay in your car. The nurse will call or meet you at your car.

Sat-Sun

Please report to the Salmon Arm Emergency Department

Mon-Fri

0930-0940

Sat-Sun & Stats

0900-0915

Trail

Kiro Wellness Centre

1500 Columbia Ave

Follow Signage and park in designated driveway to the right of main entrance.

For PCR test appointments remain in vehicle and nurse will come out at appointment time.

For Rapid tests or walk in PCR ring doorbell and return to vehicle, only during collection hours.

Mon-Sun including Stats

0900-0915

Vernon

Mon-Fri

Public Health

Vernon Health Centre -1440 - 14th Ave

Sat, Sun & Stat

UPCC

Park in COVID designated stall. Wait outside the COVID testing entrance until directed

Mon-Fri

0930-1030

Beginning Oct 3, 2022

Mon-Fri

1:30-2:30 pm

Sat, Sun & Stat

3 pm-4 pm

West Kelowna

Effective June 23, 2022 testing will no longer be available in West Kelowna. Starting June 23, please book an appointment at the downtown Kelowna testing location listed above.

Please refer to downtown Kelowna location

Kelowna 7 days per week

0900-1100

Williams Lake

Monday-Friday

Park in Parking Lot B in designated COVID testing parking spot. Stay in your vehicle until a nurse directs you.

Sat, Sun & Stat

Please report to the Williams Lake Emergency Department

Mon

0840

Tues-Fri

0930

Please send any questions to: PandemicResponse@interiorhealth.ca
First Nation Health Service Organizations COVID-19 community collection centre
We collaborate with First Nation Health Service Organizations to implement COVID-19 testing within their community.
Testing at First Nation Health Service Organizations is by appointment. Please call to determine testing times and to determine eligibility to access testing.
Location
Facility
Address
Phone Number
Coldwater
Scw'exmx Health Services
103-2090 Coutlee Ave Merritt
250-378-9745
Lower Similkameen Indian Band
Lower Similkameen Indian Band Building
1420 Hwy 3, Cawston
250-499-2265 Extension 129 or 144
Lytton First Nation
Lytton First Nation
250-256-8182
Nooaitch
Scw'exmx Health Services
103-2090 Coutlee Ave Merritt
250-378-9745
Okanagan Indian Band Community Services and Development
76 Head of Lake Road, Vernon
250-542-5094 or 236-600-0242
Penticton Indian Band
Snxastwilxtn Centre "A Place to Heal"
198 Outma Sqilx'w Place
250-493-7799
Shackan
Scw'exmx Health Services
103-2090 Coutlee Ave Merritt
250-378-9745
Simpcw (Barriere)
Simpcw Health Department
7555 Dunn Lake Rd, Barriere
250-672-9925
or 778-220-8783
Splatsin
Splatsin Health Centre
5775 Old Vernon Road
250-838-9538
Stswecem'c (Dog Creek)
Dog Creek health Centre
5822 Lily Ln.
250-398-9814
Three Corners Health Society- Williams Lake
Three Corners Health Society
150 N. 1st Ave
250-398-9814
Tlesqox/Toosey
Toosey Clinic
36 Raven Rd
Toosey, Riske Cr
250-659-5655
Ulkatcho/Anahim Lake
Anahim Lake Nursing Station
6674 Clinic Lane
250-742-3305
Westbank First Nation
Health and wellness building upstairs entrance
1900 Quail Lane
Drive through testing only
250-768-0227
Williams Lake - Texelc
Sugar Cane Health Centre
2780 Indian Dr.
250-398-9814
Xatsull (Soda Creek)
Soda Creek Health Centre
3405 Mountain House Rd.
250-398-9814
Xgat'tem (Canoe Creek)
Canoe Creek Health Centre
23 Meadow Lake Rd.
250-398-9814
Yunesit'in/Stone
Yunesit'in Health Clinic and Government Office-
6678 Taseko Rd Hanceville
250-394-4041