Aboriginal Health & Wellness
Working with Aboriginal partners and communities, and building on existing knowledge and experience, we are committed to strengthening health services and improving health outcomes for all First Nations, Métis and Inuit peoples.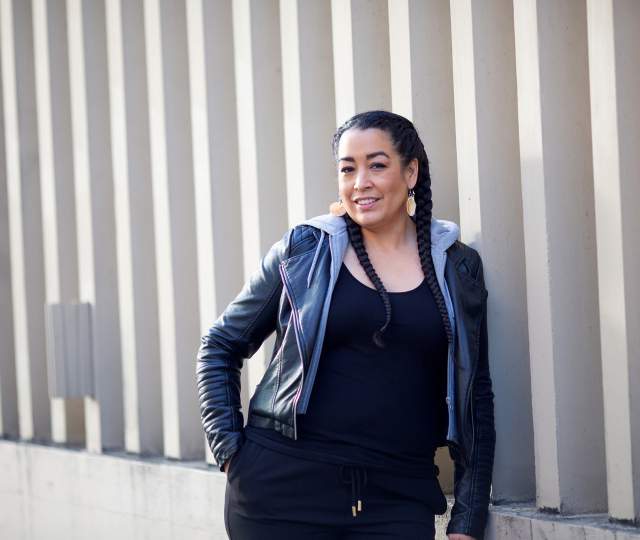 Aboriginal strategic health plans
Learn more about the Aboriginal health & wellness strategy and Aboriginal mental wellness plan.
Aboriginal health & wellness strategy
The Aboriginal Health and Wellness Strategy was developed in partnership with First Nations, Métis, Urban service providers, the First Nations Health Authority, the Interior Health Aboriginal Health team, and other key leaders within Interior Health.
The document sets the path for us to work with First Nations and Métis partners on improving health outcomes for Aboriginal peoples living within the Interior region.
Aboriginal mental wellness plan
Directly aligned with our focus on providing quality driven, people-centred care for Aboriginal peoples, the Aboriginal Mental Wellness Plan (AMWP) aligns with our mental health and substance use, First Nations Health Authority and Aboriginal community planning. It was developed through input by Aboriginal peoples, families, communities, organizations and health-care providers.
Addressing racism & discrimination in Interior Health
Our commitment to change
We are committed to working together with First Nation and Métis partners to change our health system and eliminate racism and discrimination at Interior Health.
Read statement on behalf of B.C. health authorities
Susan Brown, Interior Health president & CEO, on the work done by Mary Ellen Turpel-Lafond:
"The important work led by Mary Ellen Turpel-Lafond to investigate the extent to which Indigenous-specific racism exists in our health system, must mark a turning point for our province and our region. Although it is difficult to hear and read the results of the investigation, and to understand the significant impacts of racism in the lives of First Nation and Métis people living in the southern Interior, it is also what drives us to change.
We now have an accountability to respond. I want to thank every person who shared their story and who contributed their experiences to Ms. Turpel-Lafond's review, which was summarized in the In Plain Sight report released in November which was further detailed in the report released (in February). Addressing Indigenous racism and discrimination is a priority for Interior Health.
We are committed to working together with our First Nation and Métis partners to ensure each person who receives care and services from IH is treated with respect, dignity and compassion."
Aboriginal Patient Navigators
Aboriginal Patient Navigators (APNs) are important members of our care teams. They work in hospitals and health centres throughout Interior Health and are available to support Aboriginal peoples and their families during their care. Having an Aboriginal Patient Navigator as part of the patient care team creates a safe space for Aboriginal peoples to interact with the health system.
Whether or not you wish to self-identify as Aboriginal, Aboriginal Patient Navigators are here for you. The goal of an Aboriginal Patient Navigator is to help make your hospital care and journey to wellness safe, comfortable, and less confusing. 
Find out where Aboriginal Patient Navigators are available
Listen to our Interior Voices podcast episodes on Aboriginal Patient Navigators
Services provided by Aboriginal Patient Navigators
Aboriginal Patient Navigators are available to support your care journey and make it less stressful for you and your family. Any member of your care team including your doctor or nurse can refer you to an Aboriginal Patient Navigator. You can also request that an Aboriginal Patient Navigator is part of your care team at any point during your care. Aboriginal Patient Navigators are available to:
Offer emotional and cultural support
Create a respectful space and help support the rest of your care team to provide care in a culturally safe way
Be part of your care and discharge planning team
Provide access to spiritual care for you and your family
Connect with your Elder or spiritual care provider to ensure you have access to them during your care
Contact language translation services
Watch this video and meet Meet IH Aboriginal Patient Navigator Katie
Interior Voices podcast
Interior Voices is our Aboriginal health and wellness podcast series that explores the intersection of health and culture in the workplace, our everyday lives and patient care.
Aboriginal Self Identification project
The Aboriginal Self Identification (ASI) project helps us better understand and respond to the diverse needs of Aboriginal peoples. When you arrive at one of our hospitals or health centres, you will be asked if you wish to self-identify as Aboriginal during the registration process. Sharing your identification is voluntary.
Aboriginal self identification FAQ
Why are you asking people to self-identify as Aboriginal or non-Aboriginal?
We are committed to closing the gap in health and social conditions between Aboriginal peoples and other British Columbians. The Aboriginal Self Identification project enables Interior Health and Aboriginal Health organizations and communities to collaboratively work together to improve the health status of Aboriginal people living within IH.
Why are you collecting self-identification information for Aboriginal peoples and not other ethnic groups?
Collecting Aboriginal Self Identification information supports the Transformative Change Accord (an agreement between the Province, Federal Government and Aboriginal Governments), and the B.C. government's commitment to close the health status gap between Aboriginal peoples and non-Aboriginal people living in British Columbia. All groups of Aboriginal peoples in Canada experience inequities in health outcomes and a higher rate of chronic disease and injury compared to non-Aboriginal Canadians.
I'm not Aboriginal; why am I being asked these self identification questions?
Everyone is given the opportunity to self identify as having Aboriginal ancestry; no assumptions are being made about who is Aboriginal and who is not.
I don't feel comfortable answering this question; can I choose not to answer?
Yes. Choosing whether or not to self identity is completely voluntary. If you don't wish to provide the information there will be absolutely no impact on the quality of care you receive.
If I self identify as Aboriginal, how will this affect my care?
People who self identify as Aboriginal will be asked a few more questions including whether or not they want to receive Aboriginal Patient Navigator services. Self identification enables our care teams to deliver more culturally sensitive care and to integrate traditional practices into your care plan.

We are committed to providing appropriate, culturally competent, high quality care to everyone.
What will be done with this information?
Collecting information on Aboriginal ancestry will strengthen our efforts to design and deliver more culturally sensitive programs and integrate traditional practices into the delivery of health care to First Nations, Métis and Inuit people.
We will share de-identified information with Aboriginal governments for their health care planning purposes.

All information collected is completely confidential and protected by the Freedom of Information and Protection of Privacy Act.
Will I be asked to self identify every time I visit the hospital?
No, you will only be asked once and your answers will become part of your electronic patient record.
Can I change my Aboriginal Self Identification choice down the road?
Yes, you can change your Aboriginal Self Identification response during any visit to an Interior Health facility.
What input have Aboriginal organizations had in developing the ASI project?
Aboriginal organizations were involved in the development of the Aboriginal Self Identification questions. The Ministry of Aboriginal Relations and Reconciliation also worked with Aboriginal organizations and the First Nations Leadership Council to develop the Aboriginal Administrative Data Standard that is used across ministries for the collection and analysis of information about Aboriginal people.