Quality Care
Learn about our commitment to providing quality care and promoting safety. View assessment reports, audits and annual reports.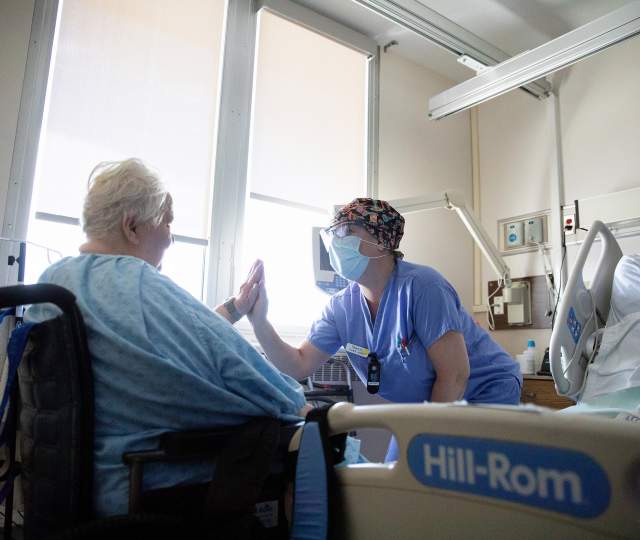 Quality care
We achieve the best quality of care when you become partners in care with us, your health-care providers.
Accreditation
We're committed to our vision of health and well-being for all. We're proud of the quality of care we provide, which is assessed and confirmed through Accreditation Canada.

We participate in a continuous accreditation process to embed quality improvement and patient safety into ongoing strategic planning and operations.

Our teams conduct self-assessments to identify strengths and opportunities for improvement. Then, expert national surveyors conduct an external assessment to validate the quality of care provided to patients, clients and those in our care.

Learn more about the accreditation process.
Assessment reports
Read our assessment reports from Accreditation Canada:
Housekeeping audits
To ensure the quality of our service, our housekeeping departments participate in the British Columbia Health Authority Housekeeping Audit Program, which includes cleaning standards, external audits and regular internal audits. This ensures that we are meeting industry standards and best practices.
Provincial housekeeping audits
Westech Systems FM Inc., an independent third-party auditor, conducts province-wide audits of housekeeping in B.C. hospitals and long-term care facilities. View the final audit reports for IH:
Infection Prevention and Control
The safety of patients, clients, staff, physicians and visitors is of paramount importance to us. A key element of our safety culture is the prevention and control of infection. The mandate of Infection Prevention and Control (IPAC) is to prevent infections and control the transmission of infections when they occur. 
Learn more about health-care associated infection surveillance.
How we achieve our mandate
Educating all staff in the best practices for preventing/controlling infections
Observing practice and mentoring staff through just-in-time teaching by clinical rounding
Conducting practice and environmental audits to identify improvements in preventing infections
Monitoring infections through surveillance to guide practice improvements
Participating in BCCDC's Community Antimicrobial Stewardship, which oversees best practices for medication use, reducing the risk of more organisms developing resistance to antibiotics
Preventing and/or supporting staff and leadership during outbreaks
Providing consultation related to infection prevention and control practices, and the development of new programs to help reduce the infections in the health care setting. For example, the Champion program in long-term care that educates and develops partnerships with point-of-care staff to encourage the basics of infection prevention and control with their care area
IPAC manual
General
Introduction
Section 03F - Routine Practices
Section 04H - Additional Precautions
Section 08S - Specific Diseases
Section 09V - Surveillance & Outbreak
Section 10X - Best Practices
Hand hygiene audits
We recognize that hand hygiene is the single most effect way to prevent infections. Visitors are encouraged to clean their hands frequently when at our facilities, and our staff and physicians follow the World Health Organization's 4 Moments for Hand Hygiene.

Hand hygiene audits are conducted regularly as part of our commitment to patient safety. We update results on a quarterly basis and share them with units to acknowledge their good work or identify the need for improvement.
 
Audit results
Have a look at how we're doing:
View a provincial picture of hand hygiene compliance that includes hand hygiene audit results from all provincial health authorities in an annual report format.

Patient safety
Providing safe, quality health care to those living in the central and southern B.C. Interior is a priority for us.

Our staff and physicians work together to improve patient safety in programs and services across all care settings.  We use the British Columbia Patient Safety & Learning System (BC PSLS) tool to report and learn from patient safety events.

Patient safety is everyone's responsibility. You also have an important role to play. Use these resources to help you to get the best and safest care possible:
Other resources
Find out more about patient safety and quality initiatives, new research and guidelines by accessing the following resources:
B.C. patient surveys
About B.C. patient surveys
The B.C. Office of Patient-Centred Measurement and the B.C. Patient-Centred Measurement Steering Committee, which are supported by the B.C. Ministry of Health and all the health authorities across B.C., have been implementing province-wide surveys for over a decade to hear the collective voices of people who access B.C. health-care services. We believe it's important to understand our patients and their families' perspectives to help shape the way that care is delivered. All surveys are voluntary and a strict process is followed to care for your confidential information.
Patients are invited to complete a survey by phone or online with the help of our surveying partners: R.A. Malatest & Associates. Randomly selected patients receive a letter in the mail explaining the process for participating or requesting removal from the survey.
If you have questions or concerns about one of the provincial surveys:
Current and upcoming surveys
B.C.'s Acute Inpatient Sector Survey (Oct. 1, 2021- March 31, 2022)

The Acute Inpatient sector survey focuses on the experiences and outcomes of care for patients who have been admitted, then discharged, from hospitals across BC.
It will help us to understand the patient perspective on the spectrum of care provided. The overall objective is to improve patient satisfaction, experience, and outcomes in quality improvement initiatives, to understand the impact of system changes on patients, and to improve public confidence in the health system over time.
For more information about the survey, please review the FAQs

B.C.'s Emergency Care Sector Survey (Jan. 1, 2022 – March 31, 2022)

The Emergency Department (ED) sector survey occurs annually from January 1, until March 31 to measure the experience and outcomes of patients accessing British Columbia's (BC) health care system.
Participation in the survey is voluntary. A random sample of Patients who received ED services in Interior Health are invited to participate in the survey. In BC, this includes full service EDs, urgent care centres, diagnostic and treatment centres, and outpost hospitals.
For more information about the ED sector survey, please review the FAQs

B.C.'s Total Hip and Knee Replacement (January 2022 – Ongoing)

The pilot of the Elective Total Hip and Knee Replacement sector survey is a province-wide patient experience survey to measure patient experience and outcomes within the British Columbia's health-care system.
The purpose of the survey is to understand the outcomes and experiences of joint replacement patients prior to surgery and one year after their surgery is completed. The goal is to learn the impact of joint replacement surgery on patients' daily lives and to understand their experiences at our surgical facilities. The results of the survey will help to identify areas for improvement, as well as areas where we are doing well.
For more information about the Total Hip and Knee Replacement survey, please review the FAQs
ICU survey
Please take this ICU survey to tell us about your experience in the intensive care unit (ICU).