Leadership Development
Learn about the opportunities we provide for medical staff to advance their careers through ongoing education and leadership programs.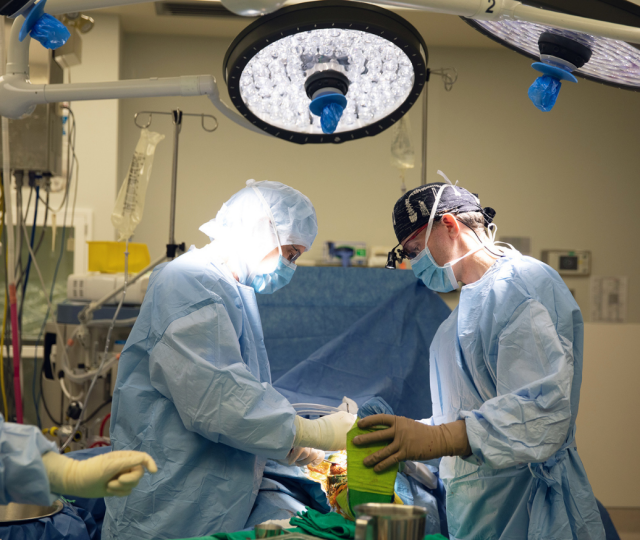 Leadership Programs
We provide opportunities for medical staff to advance their careers through ongoing education and leadership programs.
Rural Continuing Medical Education Community Program
This program makes funds available to groups of physicians living and delivering care in Rural Subsidiary Agreement communities, to address their collective learning needs. It aims to improve the capacity of local health care systems to address the needs of community members by giving physicians more control over collective learning activities, reducing the challenges of accessing funds, and improving relationships among health system partners.
The program includes generalists, specialists and allied health partners in Continuing Medical Education activity to encourage inter-professional learning.

Each community in the program receives funds for the community of physicians to support collective learning needs.
NAVIG8 Medical Leadership Program
The NAVIG8 Emerging Medical Leaders Program is a comprehensive leadership development program providing the practical leadership knowledge, behaviours and skills for emerging physician leaders. The program is designed for physicians who aspire to, or currently occupy formal administrative leadership positions in the health authority and who wish to augment their medical background with applied operational skills.
The training will occur over two years and is a blend of:
Eight quarterly two-day in-person learning sessions facilitated by physicians, administrative dyads and key partners

Online learning & supporting resources, tools and discussion forums between sessions

Hands-on integration of learning through participant-led projects

A mentorship program with participants connecting regularly with physician and administrative mentors
Through faculty presentations, case studies, group discussions, workshops, and individual exercises, participants examine the distinctive characteristics that define successful leaders. The curriculum balances thought-provoking analysis and dialogue with self-reflection and personal development. The aim of the program is to build a community of medical leaders who can be effective partners in continuously improving care. Participants will:
Develop a deeper awareness of their own leadership strengths & development opportunities

Enhance their strategy, negotiation, conflict management, peer and team management and other key leadership skills

Gain relevant knowledge on topics such as governance, credentialing & privileging, financial analysis, health care human resource planning, managing disruptive behaviour, etc.

Develop competence for creating and sustaining change at a personal, team, and organizational level including learning the Dyad Leadership model

Become more nimble in navigating the provincial health care system/environment

Gain deeper insights into how to engage, inspire, and motivate their teams
University of British Columbia Sauder Physician Leadership Program
The UBC Sauder Physician Leadership Program is for physician specialists who are certified or are fellows of the Royal College of Physicians and Surgeons of Canada and are actively and independently practicing in B.C. Sauder is designed for the participant to acquire new perspectives on health care leadership, and develops the participant's practical, broad-based set of skills to work at multiple levels of organizations and across multiple health care contexts. This Program is offered by the University of British Columbia's Sauder School of Business.
Topics covered within the Sauder Program include:
Leading Self

Leading in a Complex Environment

Leading to Implement Quality Operations

Change Initiatives in Health Care
To participate in the Sauder Program, endorsement is required by the applicant's health authority.
Simon Fraser University Leadership and Management Development Program
This foundational program is funded by the General Practice Services Committee and run by Simon Fraser University's Beedie School of Business.
It is grounded in concepts to build or enhance leadership and management capacity and gives participants the tools to build common skills and language in initiatives related to primary care redesign. The program is open to physicians who are already in a leadership role, or plan to be in the near future, within their division of family practice.
Learn about the General Practice Services Committee Leadership and Management Development Program.
Rural Physician Mentoring Program
Specialist Services Committee Leadership Scholarship
The Leadership Scholarship, provided by the Specialist Services Committee (SSC), supports the development of leadership and quality improvement skills. The program provides funding to cover tuition fees, accommodations and travel cost.
Find out more about the SSC Leadership Scholarship, and the criteria and the funding available.
Saegis
Saegis is a subsidiary of the Canadian Medical Protective Association. It provides a variety of specialized, in-depth professional development programs for physicians, health care professionals, teams, hospitals, and clinics.
Joule
Joule is a subsidiary of the Canadian Medical Protective Association. It supports medical staff and medical leaders with continuing education. Joule offers many learning opportunities, including courses related to Physician Leadership, Practice Management and Health and Wellness.