Cindy Ferguson has been helping people through minor surgeries at Kootenay Boundary Regional Hospital (KBRH) in Trail for 14 years.
When patients are in need of day surgery and minor procedures, Cindy and her colleagues go to work in what is known as the ambulatory care unit, where patients who don't require an overnight stay are treated.
Now, the hard-working health care workers and physicians along with the people they are treating have a brand new unit to call home and it was designed to ensure patients' needs are always top of mind.
On Sept. 20, the day-surgery unit opened on the second floor of the new emergency department at KBRH. It's a modern department that matches the skill of those who work there and focusses on patient and staff safety.
"It's a beautiful unit," says Cindy. "We put a lot of thought into the design. It's a more efficient unit that makes it easier to multi-task and keep an eye on patients. It's so bright with lots of natural light. The rooms themselves are going to provide more privacy and space and really improve the patient journey. I'm really excited for our staff. They are amazing and really deserve a great place to work."
Patients will notice a lot of natural light and modern spaces that promote health and healing following a procedure.
The day-surgery unit is linked to the existing hospital by a walk-way, which is accessed through the main KBRH entrance. It was designed with input from employees and physicians and is part of the ongoing redevelopment of the Trail hospital.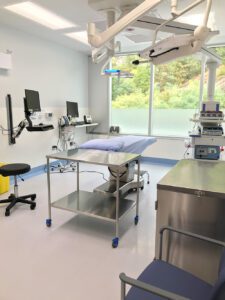 Natural light is a key feature of the new day surgery unit at KBRH.
"Having new, modern spaces allows patients to have a comfortable setting to receive care. We wanted to ensure the patients' needs were always accounted for in the design of the unit. It's spacious, bright and is a warm, healing environment, allowing us to treat our patients in the best way we can," says KBRH physician, Dr. Ron Cameron.
For patients, there is a new patient change room with lockers, preparation area, recovery areas and procedure rooms. A new front desk makes it easier for patients to access the services and employee working conditions are improved with better sight lines and work areas.
With the new unit now open and seeing patients, work continues inside KBRH on several large renovations. The old day procedure unit is now being updated, while a significant renovation to the KBRH Pharmacy is also underway. The physiotherapy department will also be updated, as will the cast clinic and a new health information area has already opened.
"We are a regional hospital and now we have the spaces that really allow our professionals to thrive in the care that they are able to provide to people right across the region," says Cindy.