We are IH is a recognition campaign to spotlight Interior Health employees and medical staff – through pictures and stories.
Name: Mandy Smith (she/her)
Job Title: Registered Nurse, ICU
Years of Service: 29
Worksite: Vernon Jubilee Hospital
Community: Vernon
Ancestral Territory: Syilx/Okanagan
Favourite Quote: "Everything happens for a reason." -Unknown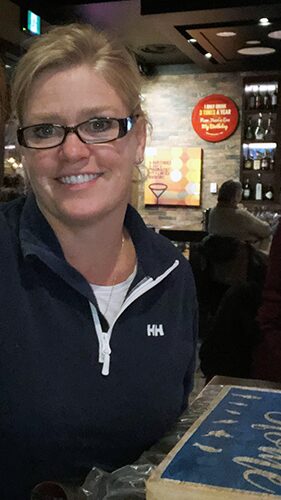 Mandy at a Paint Nite event
Originally hailing from Portage La Prairie, Manitoba, Mandy Smith has spent the majority of her 29 years with Interior Health as a nurse working in the Intensive Care Unit (ICU) at Vernon Jubilee Hospital. But she still loves it after all this time.
"I've seen people come and go, and many changes, and I'm still here. It's an accomplishment to continue to do what I love in the same department so many years later."
Her self-described characteristics of friendly, approachable and dependable fit well with Mandy's role. As her husband is now retired, Mandy is starting to eye the relaxed lifestyle herself in the next few years. But it's her colleagues that still keep her inspired every day.
"I work with an amazing bunch of people in ICU, from support workers and doctors to fellow nurses. I think we're lucky to have the group we work with."
Outside of work, Mandy takes advantage of any time she can spend with her husband and adult children. Otherwise, you can find her snowboarding, hiking, camping and spending time with friends.
A little known fact is that Mandy is a Persian cat fanatic. After being given her first Persian as a sweet 16 gift from her parents, Mandy's never been without one since.
 Mandy's Persian cats
---
Stay updated with careers at Interior Health
Facebook  |   Instagram  |   LinkedIn