We are IH is a recognition campaign to spotlight Interior Health employees and medical staff – through pictures and stories.
Name: Carol Kay (she/her/hers)    
Job Title: Document Analyst Clerk
Years of Service: 17    
Worksite: Royal Inland Hospital
Community: Kamloops    
Current Territory: Tk'emlúps te Secwe̓pemc
Ancestral Territory: Moffat Scotland & Tipperary Ireland
Favourite Quote: Where there's is a will, there's a way.
The ability to have a diverse and rewarding career over 17 years at Interior Health is a source of pride for Carol Kay. 
She started her journey as a Licensed Practical Nurse, working for seven years at Royal Inland Hospital and three years at Ponderosa Lodge in Kamloops, while balancing life with two crazy and fun-loving daughters. 
She then shifted to a role in administration for the Parkview Child & Adolescent Mental Health Program, where she worked for five years. In 2018, she accepted her current position – Document Analyst Clerk with IH's Document Services department. 
"One of my proudest moments at Interior Health was being a part of the growth of the Parkview Child & Adolescent Mental Health Program, working with the psychiatrists and staff. This had a significant impact for the betterment of children and youth in our community. 
"Also, being acknowledged for my services and commitment to working with a great organization and staff, while receiving my long-term service 15 year pin."
Today, Carol enjoys assisting IH staff with Document Services-managed forms and updating the Forms Repository and Forms Library, which uses her penchant for organizational skills and fine data entry.
What you might not know about Carol's history is that, in her younger years, she was a cadet in the #102 Navy League of Canada Prince Robert Cadet Corps Kamloops, and then #137 Royal Canadian Sea Cadet Corp Kamloops as a teenager. This is where Carol learned her strong leadership skills, participated in countless citizenship activities, and developed a love for the Canadian Armed Forces. This led her to find her passion developing our future leaders of Canada in the Canadian Armed Forces, as a Second Lieutenant (2LT) in Cadet Instructor Cadre (CIC) Program in the towns of Golden and Cranbrook, B.C.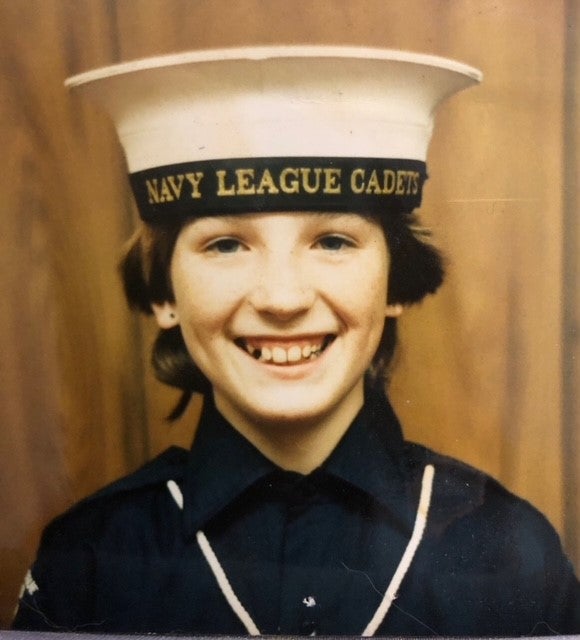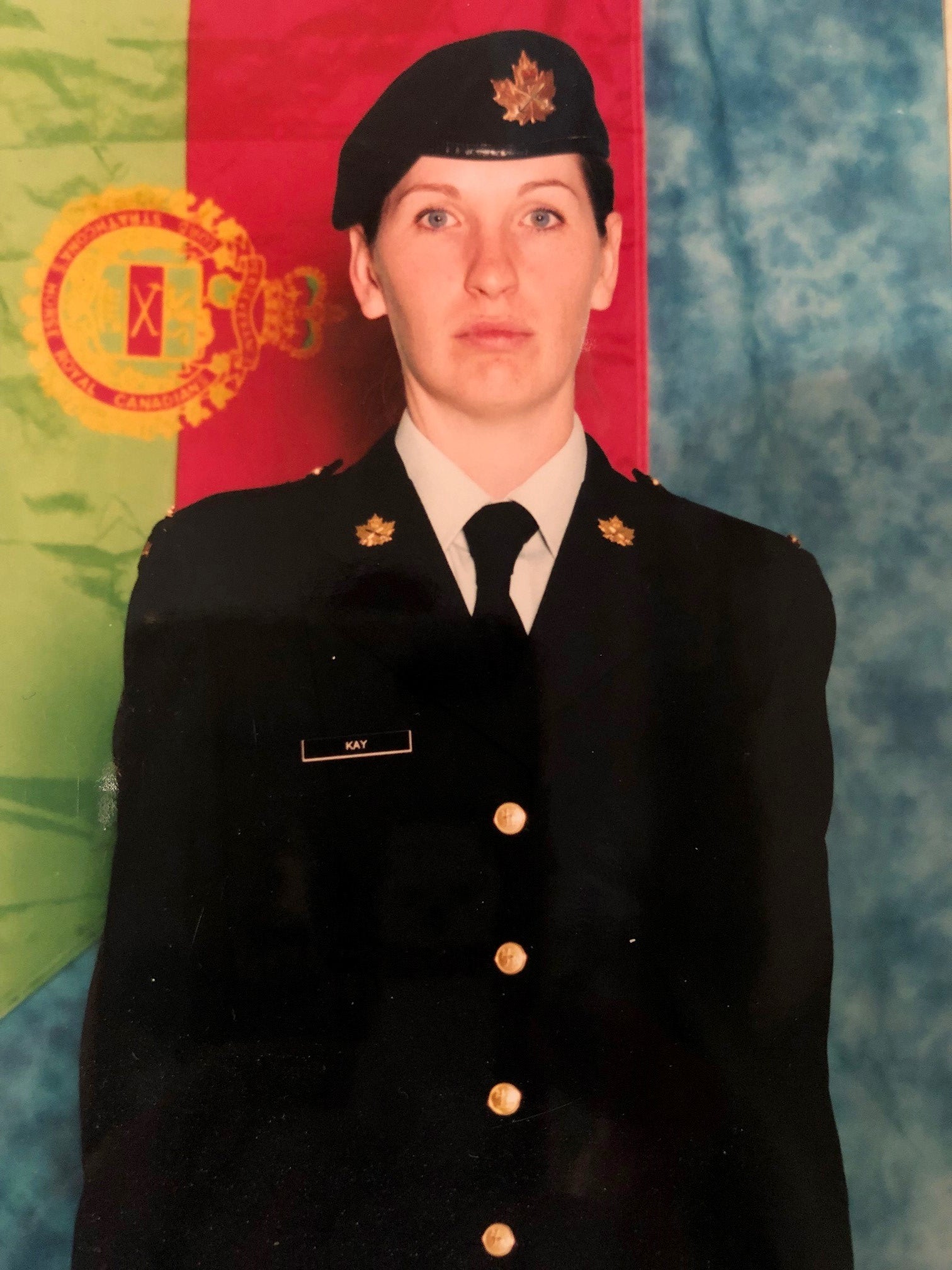 Carol Kay, when she first joined Navy League Cadets (left), and in her Canadian Armed Forces uniform.
Carol is currently an active member of Army, Navy and Air Force Veterans, Unit #290 North Kamloops (ANAVETS), generating camaraderie amongst fellow veterans and members by displaying her spirit of patriotism for Canada. Carol has also shared her time with the Royal Canadian Legion for the past 20 years, where she continues to bring her positive leadership and passion. Today, you can find her being a Veteran's Advocate and preserving Canadian Military history and traditions for her country. Carol is always ready to serve when called upon, even for the smallest undertaking. 
When not at work, Carol shows her pride in her Celtic heritage as she continues to grow with the Kamloops Pipe Band Society as a side drummer. Carol also enjoys a healthy active lifestyle with swimming and has a passion for gardening. 
Carol's Pipe Band played for Royal Inland Hospital staff in appreciation of health-care workers during the pandemic. 
To keep We Are IH going, Carol nominates Kailey Auger, Program and Systems Analyst with IMIT.  
"Kailey has the wonderful ability to adapt to a fast-paced environment. Kailey continues to bring her exemplary standards of teamwork, while developing new staff to reach their full potential by working together respectfully and growing as a team. Kailey has an unforgettable laugh and passion for her colleagues. Like many in our organization, Kailey gained a deeper understanding of her current position by her learned experiences during her career at IH. Kailey is a valuable asset as a colleague and mentor. She is always striving to have a better understanding of her career and a respectful relationship with others."
---
Stay updated with careers at Interior Health
Facebook: Interior Health  |   Instagram: interiorhealthbc
|   LinkedIn: Interior Health Authority