Across our region, local governments are supporting COVID-19 recovery and working hard to keep their communities safe.
Whether by encouraging people to get booster shots, or sharing information on how we can protect our communities from the new Omicron variant, municipal leaders bring a trusted, local voice to people in the community.
Two great examples are Armstrong Mayor Chris Pieper and Denis Delisle, an Area Director for Rural Enderby with the Regional District of North Okanagan. Both have been engaged, local champions promoting COVID-19 vaccination efforts in their communities.  
Throughout the vaccine rollout in Armstrong, Pieper has directed city staff to advertise vaccination clinics in the community and through the city's website and social media. He also visited a mobile vaccination clinic and shared his encouragement on Instagram to go get vaccinated!  
"I fully support the COVID-19 vaccination program," says Pieper. "It will help us return to some kind of new normal". He also encouraged those who are hesitant about getting a vaccine to research trusted resources and "make a life saving decision to get vaccinated."
Delisle continues to come up with innovative ideas for how to encourage Enderby residents to get vaccinated, and where additional drop-in vaccination clinics could be located. 
"It's clear to me that COVID-19 kills and injures people and its effect on people's mental and economic well-being has been devastating," says Delisle. "Please step up and get vaccinated. Do your part to keep our communities safe."
Both Pieper and Delisle spoke on Global News to raise awareness of the low vaccination rates in their communities and encourage people to go get vaccinated.  
"These local leaders in the North Okanagan have shown great leadership and care towards the safety and recovery of their communities, says Janelle Rimell with Interior Health's Healthy Communities, Healthy Families team.
"Thanks to all community leaders for your support and advocacy during these challenging times. Your efforts to promote trusted sources of COVID-19 information and encouraging community members to get vaccinated and to get booster shots will help our entire province fight this pandemic and deal with the new Omicron variant."
---

About the author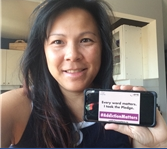 Janelle Rimell is an Environmental Health Officer with the Healthy Communities, Healthy Families team at Interior Health. This team works alongside local governments to create physical and social environments that support good health for everyone.